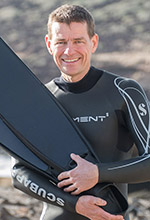 Helmar Mildner studied photodesign at the Fachhochschule Dortmund and graduated in 1997 with a degree successfully photo designer.
There followed many years of independence, where he worked in various fields of photography and image processing. Among other things, he worked as a freelancer for a reputed carmagazine, for which he carried out so-called Erlkönig unmasking. He also occupied himself intensively with the interactive 360 ° panorama photography.
His Mini Cooper series originated in a time when the CGI (Computer Generated Imagery) still in its infancy. It was built entirely without the now almost standard associated 3-D computer graphic.
Today, he increasingly likes to dedicate himself to the landscape and nature photography, as an active paraglider pilot and freediver he also loves it from unusual perspectives. To show his fascination for freediving and paragliding to others, Helmar Mildner also runs the youtube channel helmar24 and the freediving website www.dive-insider.de.
---
Helmar Mildner hat an der Fachhochschule Dortmund Fotodesign studiert und das Studium im Jahr 1997 als Dipl-Fotodesigner erfolgreich abgeschlossen.
Es folgten viele Jahre Selbständigkeit, in denen er sich in verschiedenen Bereichen der Fotografie und Bildbearbeitung betätigte. Unter anderem war er jahrelang als freier Mitarbeiter für eine renommierte Autozeitung tätig, für die er sogenannte Erlkönig-Enttarnungen durchführte. Weiterhin beschäftigte er sich intensiv mit der interaktiven 360°-Panoramafotografie.
Seine Mini Cooper Reihe entstand in einer Zeit, in der CGI (Computer Generated Imagery) noch in den Kinderschuhen steckte. Sie entstand gänzlich ohne die heute quasi zum Standard gehörende 3-D-Computergrafik.
Heute widmet er sich vermehrt der klassischen Landschafts- und Naturfotografie, als aktiver Gleitschirmpilot und Freitaucher auch gerne aus ungewöhnlichen Perspektiven. Um seine Faszination für das Freitauchen und Gleitschirmfliegen anderen zu zeigen, betreibt Helmar Mildner auch den youtube Kanal helmar24 und die Freediving Webseite www.dive-insider.de.